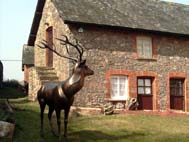 Intruder Alarm Systems are generally regarded as the number one weapon in the fight against crime and disorder, helping to protect homes and work places throughout the world.
Whether simple door contacts & movement sensors, or high security perimeter protection & dual-path signaling, intruder alarm systems can be tailored for any type of property.
metcalfeallen have installations ranging from an audible-only lock-up garage to a tobacco warehouse with integrated alarm system & CCTV, sending video images to a remote 24-hour monitoring station. Our knowledgeable and dedicated installation team are equally capable whether it's in a beautiful home furnished with deep pile carpets & antique furniture or a greasy & dirty machine shop & warehouse on an industrial site.
Offsite communication can be specified to provide a Police response where required. Any activation will be sent (via your telephone line) to a central monitoring station who will verify the call and, where confirmation is received, call the local Constabulary. Where a higher level of security is required there are a range of options available including BT Redcare, CSL Dualcom and Paknet.
Another type of off-site communication is the speach dialler which, upon activation of the system, will dial up to four pre-programmed telephone numbers (via your telephone line)
For further information or to arrange a free, no obligation survey, please telephone 01884 38222 or go to our on-line form or simply click web@metcalfeallen.com and email us your details. and replay a message detailing the nature of the incident. Ever increasing in popularity the speech dialler incurs no on-costs, other than the standard charges for telephone calls made, thus making it a very cost effective. Please note however that a speech dialler must never be programmed to call the Police directly.

Tags: alarm, Bridgwater, Brixham, burglar, Crediton, Cullompton, Devon, electronic, Exeter, intruder, Ivybridge, Launceston, Newton Abbot, Okehampton, Paignton, Plymouth, security, Somerset, Taunton, Teignmouth, Tiverton, Torbay, Torquay, Totnes