Until recently we were concerned about the reliability and performance of wire-free alarm systems – but not any longer. The Enforcer system, manufactured by Pyronix and professionally installed by ourselves, is a high spec and fully featured alarm system.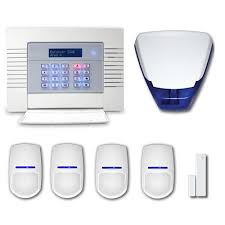 Unlike cheaper DIY wire-free systems, which can seem like glorified car alarms, the Enforcer range can even be used for Grade 2 communicating alarms complete with Police response and options include remote diagnostics, event texting and external detection.
The Enforcer control panel requires only two connections, the mains and a telephone line and is therefore typically installed in a position where both are easily available. All devices including door sensors, PIR detectors and external sounders are battery operated and truly wire-free. Full supervision ensures that all devices are constantly monitored for any potential problems including signal jamming & low battery with any faults reported on the remote keypad in plain English. All systems are set up and programmed prior to leaving our workshop and installation is usually completed in less than three hours.
We are able to supply and professionally install a wire free intruder alarm system comprising panel, back up battery, external sounder, 4 x PIR detectors and a door contact for a ridiculously low price of £600.00 including VAT (£500.00 exVAT).
This offer is limited to dwellings or businesses with a Cullompton or Tiverton post code (i.e. starting EX15 or EX 16) and, although we are very happy to install in adjacent postcode areas, due to ever increasing mileage costs, there will have to be a slightly higher charge to compensate – please phone us for a quote.
Don't miss out on this fantastic offer – reply today and we will guarantee an installation within the next two weeks and, for a limited time, customers taking up our ongoing maintenance package can enjoy the benefit of a lifetime equipment warranty for as long as the maintenance is kept going.
For further information or to arrange a free, no obligation survey, please telephone 01884 38222 or go to our on-line form or simply click web@metcalfeallen.com and email us your details.
Tags: alarm, bell box, burglar, Cullompton, Devon, enforcer, EX15, EX16, fob, intruder, lifetime warranty, LJD Digital Security, local, mrc, pir, professional, protection, pyronix, remote, security, special, special offer, system, Tiverton, warranty, wirefree, wireless