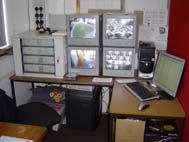 Integrated Security Systems from Metcalfe Allen – Providing Peace of mind by helping protect People, Property, Possessions and Pets.
Whether the integration is across a single discipline eg. an access control solution incorporating control panels, card readers and access control cards with printed photo ID or whether the integration is across multiple disciplines such as an access control system with additional intruder detection, alarm monitoring, video surveillance, visitor management and boundary protection systems, Metcalfe Allen are able to design, install & commission complex security solutions tailored exactly to your requirement.
For further information or to arrange a free, no obligation survey, please telephone 01884 38222 or go to our on-line form or simply click web@metcalfeallen.com and email us your details.
Tags: access, alarm, Audio, BPT, burglar, CAME, CCTV, door access, door entry, electronic, FAAC, gate, intruder, Paxton, Recording, security, surveillance, Video