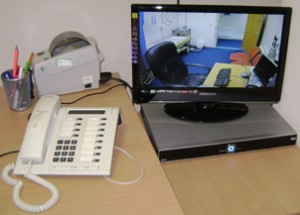 Although better known for our security systems, metcalfeallen have for many years been installing GP Registrar Consultation Recording systems in General Practices & Medical Centres for video recording Patient consultations for training and assessment purposes.
Older systems, relying on videocassette recorders, were cumbersome to operate and time consuming to edit but the introduction of the DVD recorder has simplified this considerably so that installations are now compact and very easy to operate.
The recording of each individual consultation is initiated, and subsequently ended,  by a simple press of a button either on the unit itself or on the supplied remote control.
An unobtrusive miniature camera & microphone are expertly installed and the high quality audio & video are delivered to the DVD recorder with each individual consultation becoming a file on the recorder's hard drive. Recorded consultations can be reviewed on the monitor and any or all can be 'burned' to DVD using the integral DVD writer for archiving, training purposes or submission for assessment.
The DVD recorder and associated monitor need not necessarily be in the room where the consultation takes place with the Registrar able to switch the equipment on and off using an extended remote control.
The photograph above shows the actual setup in a Registrar's consulting room in Somerset and has not been edited in any way. The monitor is showing the actual image from the ceiling-mounted camera which has been set up to view both the Registrar and patient's chairs.
The two photos below are from a surgery in SouthWest Devon and again the image on the monitor is the actual image from the ceiling-mounted camera.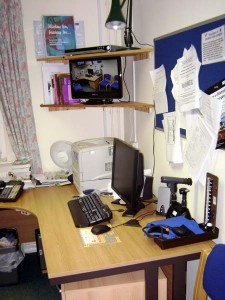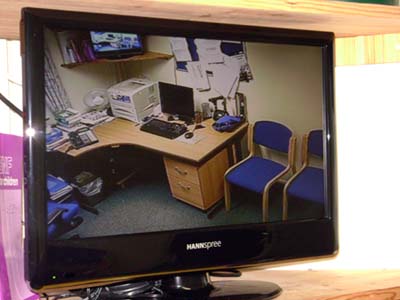 For further information or to arrange a free, no obligation survey, please telephone 01884 38222 or go to our on-line form or simply click web@metcalfeallen.com and email us your details.
Tags: Audio, Camera, Consultation, Doctor, Dr, Exam, GP, Microphone, Recording, Registrar, Surgery, Training, Video