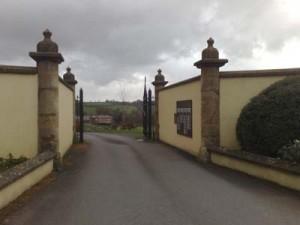 Where an access controlled entry point is a long distance from the main property or getting a cable back to the handset is problematic, a telephone or GSM based system could well be the answer. It might be that you have a remote site like a builders yard or stable and would like to know when people visit – one of the key features of this system is that pressing the call button will instigate a call to any preprogrammed landline or mobile telephone, anywhere in the world.
One restriction upon installation is that you will require mains electricity at (or in the vicinity of) the gate to power the mechanisms and the door station, however, solar and alternative energy sources are developing at some pace and it may not be long before we can offer a truly stand-alone, self contained system.
If there is access to the main telephone network or the Telco Provider can install a phone line at the gate then the unit can be connected to a landline, however, increasingly popular (and in most instances cheaper to run), GSM versions using a mobile phone SIM card are quick and easy to install. For as little as £10 per month with a contract tarriff (cheaper if you are happy to use a pay as you go tarriff) and with none of the installation or monthly rental charges of a fixed line, the Telguard T-Bespoke GSM is surpassing all expectation.
•The All New T-Bespoke is a telephone or GSM based intercom system to call from 1 to 3 separate numbers utilizing the new silicon keypad. The new slim line panel boasts a complete new design from their in house development team.
•The system is programmed by ourselves either remotely from a standard telephone/ mobile or locally via the keypad (where fitted)/ modem link, or USB connection.
•Each call button is programmed to call a different telephone number relating to the destination (reception, office, house etc). When a visitor presses the required button the Electronic Voice Assist will confirm that the call is being made and a telephone call is made from the entrance panel to the destination telephone number. If this number is engaged (or not answered) then the system can be programmed to dial up to seven alternative numbers so, if you programme your mobile number, you can converse with anyone at the gate as if you are at home.
For further information or to arrange a free, no obligation survey, please telephone 01884 38222 or go to our on-line form or simply click web@metcalfeallen.com and email us your details.
Tags: access, barrier, BPT, CAME, door access, door entry, FAAC, gate, GSM, impro, mobile, Paxton, phone, telephone, Telguard, Urmet