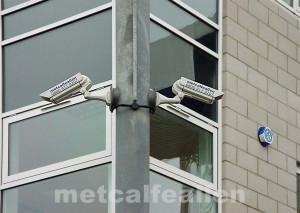 CCTV is now recognized as the premier tool in the fight against crime and lawlessness, helping to protect homes, work places, private & public spaces of all kinds.
Whether viewed 'live' by an operator or used to record activity for review at a later time, CCTV video surveillance will ensure that crime against people, theft and vandalism are substantially reduced. If an incident should occur, CCTV recordings can provide the authorities with valuable evidence, thus improving the likelihood of conviction.
CCTV cameras are available to suit all applications both internally and externally whether home or corner shop, or town centre or public space. CCTV installations can be linked in to other systems including intruder alarms, access control or security lighting and alerts can be sent to a monitoring station or directly to a mobile phone, putting you in control and giving you the opportunity to act quickly to deal with the problem.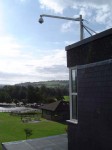 Whilst covert (hidden) video security systems can be designed and installed, it is our preference to deter criminals from committing crime in the first instance. From the point of view of a business or home owner, the main concern is the safety of their loved ones or staff and the security of their business, home and possessions. Most would agree that whilst catching, arresting and sentencing criminals is the ideal goal for society, this can be a costly and time-consuming task for an individual or business so generally speaking, prevention is better than cure.
With the prevalence of broadband internet, both in the workplace and at home, peace of mind can be attained by connecting your CCTV system to your broadband router and viewing live (or recorded) images from any computer, anywhere on the internet. Connections are password protected and secure and it is even possible to stream video images directly to certain hand-held devices and smart-phones.
The consequence of unbranded imports coming in from the far east is a general reduction in the cost of CCTV equipment, openning up the market to more and more potential customers.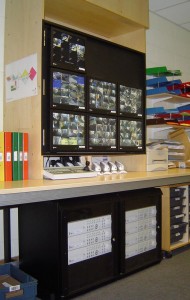 We continually assess new products but are understandably very wary of the cheapest goods. This diligence has resulted in us tending to use three brands in particular, namely the Eneo range from the German company Videor, the Twilight Pro Range from CCTV Direct and a whole range of equipment from Genie CCTV. We use CCTV Wholesales, COP Security and LJD Digital Security for specific items and links to all of these companies can be found on our Partners page.
For further information or to arrange a free, no obligation survey, please telephone 01884 38222 or go to our on-line form or simply click web@metcalfeallen.com and email us your details.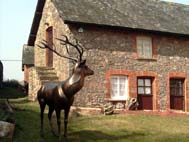 Intruder Alarm Systems are generally regarded as the number one weapon in the fight against crime and disorder, helping to protect homes and work places throughout the world.
Whether simple door contacts & movement sensors, or high security perimeter protection & dual-path signaling, intruder alarm systems can be tailored for any type of property.
metcalfeallen have installations ranging from an audible-only lock-up garage to a tobacco warehouse with integrated alarm system & CCTV, sending video images to a remote 24-hour monitoring station. Our knowledgeable and dedicated installation team are equally capable whether it's in a beautiful home furnished with deep pile carpets & antique furniture or a greasy & dirty machine shop & warehouse on an industrial site.
Offsite communication can be specified to provide a Police response where required. Any activation will be sent (via your telephone line) to a central monitoring station who will verify the call and, where confirmation is received, call the local Constabulary. Where a higher level of security is required there are a range of options available including BT Redcare, CSL Dualcom and Paknet.
Another type of off-site communication is the speach dialler which, upon activation of the system, will dial up to four pre-programmed telephone numbers (via your telephone line)
For further information or to arrange a free, no obligation survey, please telephone 01884 38222 or go to our on-line form or simply click web@metcalfeallen.com and email us your details. and replay a message detailing the nature of the incident. Ever increasing in popularity the speech dialler incurs no on-costs, other than the standard charges for telephone calls made, thus making it a very cost effective. Please note however that a speech dialler must never be programmed to call the Police directly.


Metcalfe Allen Ltd are proud to be members of the FSB (Federation of Small Businesses) and Managing Director Jerry Allen has formerly been involved both locally here in the South West as well as nationally.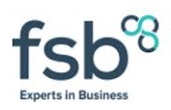 If you would like to join this fantastic federation of over 160,000 small & medium sized UK businesses, either do so on-line via the fsb website or please get in touch with me directly and I'll point you in the right direction.
Jerry Allen
Former Vice Chair – Mid Devon Branch
Former Regional Secretary for Devon
Former National Councillor for Devon

Posted By:
Jerry
on
in
What we do...
-
Comments:
Comments Off

on Special Offer: Wireless Alarms
Until recently we were concerned about the reliability and performance of wire-free alarm systems – but not any longer. The Enforcer system, manufactured by Pyronix and professionally installed by ourselves, is a high spec and fully featured alarm system.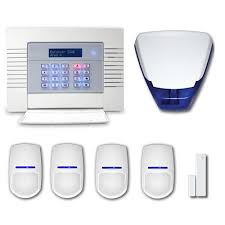 Unlike cheaper DIY wire-free systems, which can seem like glorified car alarms, the Enforcer range can even be used for Grade 2 communicating alarms complete with Police response and options include remote diagnostics, event texting and external detection.
The Enforcer control panel requires only two connections, the mains and a telephone line and is therefore typically installed in a position where both are easily available. All devices including door sensors, PIR detectors and external sounders are battery operated and truly wire-free. Full supervision ensures that all devices are constantly monitored for any potential problems including signal jamming & low battery with any faults reported on the remote keypad in plain English. All systems are set up and programmed prior to leaving our workshop and installation is usually completed in less than three hours.
We are able to supply and professionally install a wire free intruder alarm system comprising panel, back up battery, external sounder, 4 x PIR detectors and a door contact for a ridiculously low price of £600.00 including VAT (£500.00 exVAT).
This offer is limited to dwellings or businesses with a Cullompton or Tiverton post code (i.e. starting EX15 or EX 16) and, although we are very happy to install in adjacent postcode areas, due to ever increasing mileage costs, there will have to be a slightly higher charge to compensate – please phone us for a quote.
Don't miss out on this fantastic offer – reply today and we will guarantee an installation within the next two weeks and, for a limited time, customers taking up our ongoing maintenance package can enjoy the benefit of a lifetime equipment warranty for as long as the maintenance is kept going.
For further information or to arrange a free, no obligation survey, please telephone 01884 38222 or go to our on-line form or simply click web@metcalfeallen.com and email us your details.